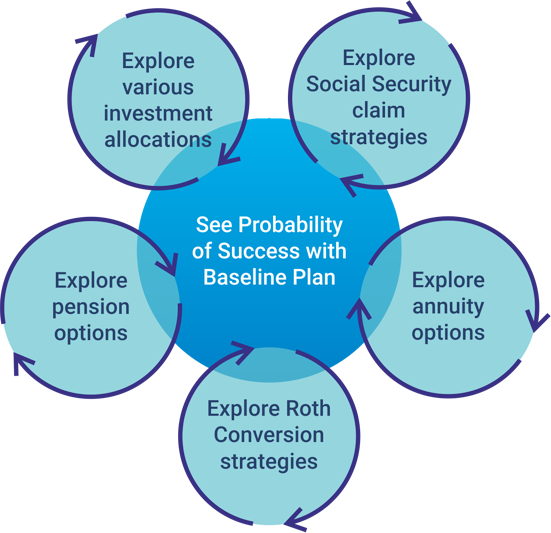 The trial-and-error infinite loop of conventional financial planning. Result: uncertainty
Conventional financial planning tools were built primarily with the investment portfolio as the main solution for the accumulation and growth phase.
However, post-retirement decumulation management is a new challenge. Social Security claiming, lifetime annuity allocation, Roth conversions, and pension settlement options add massive complexity. You're dealing with thousands of options here.
Advisors are never totally certain they've recommended the best choice. Why settle when you can put your finger on the optimal strategy?
AIDA evaluates all possibilities. Result: confidence
AIDA produces the optimal mix to maximize post-tax Safe Retirement Income by as much as 30%*.
Your advisors can guide clients through the optimal path to a Full & Rich retirement.
Discover how –
Download the white paper now
*See disclosure for limitations


Modules for scaling your retirement decumulation business
For financial professionals, we offer multiple modules – digital module for prospecting, advisor-facing module for comprehensive income planning and distribution management.
Safe Income PortalSM:
two minutes and seven data points generate personalized results
A friendly conversation shows retirees the value of engaging with an advisor to obtain their personalized Safe Income strategy.
Exceed client's expectations of retirement income
Solidifies trust in the advisor and your firm
Improves a prospect's confidence in engaging further for a comprehensive income plan
Prospects flow into your CRM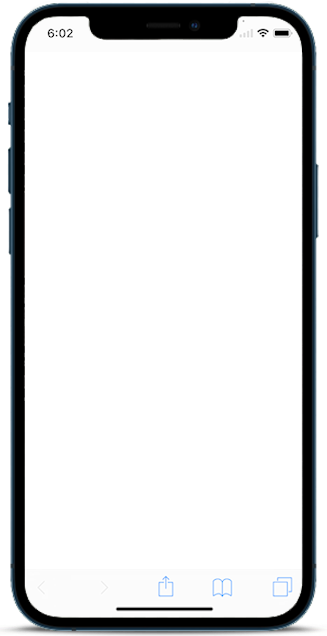 One-Click Plan Building
For savvy advisors, it's love at first sight.
Now your advisors can deliver a personalized strategy that is fully co-optimized, not in isolation, all with a single click.
Social Security claiming
Allocation to annuities for lifetime income, and investment portfolio allocation
Optimal effective tax rates for discretionary disbursals from qualified accounts, for both retirement income and Roth conversion
Dynamic tax strategies for non-qualified accounts target tax-free capital gains, then minimizing taxable capital gains
Permanent life insurance - either as cashflow or a death benefit
Our One-Click Plan builder is designed for easy analysis. Advisors using it are enthusiastic.
Provide solid answers with a client presentation under your brand
A personalized presentation answers client questions in a clear, concise format, and demonstrates Best Interest for 401(k) rollovers and annuity purchases.
Makes client decisions easier – and boosts acceptance rates by more than 200%.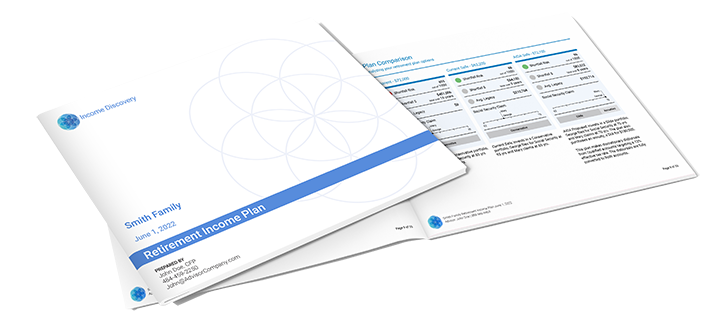 Unified Managed Income: Manage more retirees, more effectively
Executing against a selected income plan, you'll get clear instructions on planned disbursals, unplanned disbursals and Roth conversions.
AIDA issues disbursal instructions by determining:
Tax-targeted disbursals and RMDs from qualified accounts
Non-Qualified account disbursals under various capital gain management strategies
Roth account disbursals, returning basis if client is younger than age 59½
All other incoming cash flow sources
Take your productivity to the next level - and make more clients happier.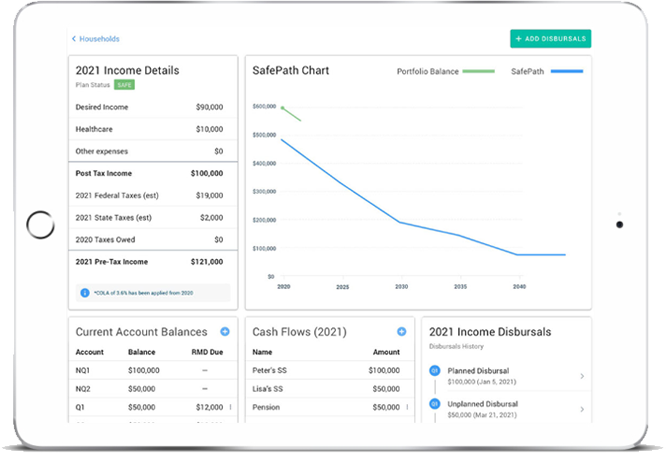 $11.5 trillion in assets are waiting for AIDA. And you.
Affluent and High Net Worth retirees and near retirees are a massive market seeking guidance.
Income Discovery's platform retains retirees and helps protect inter-generational wealth transfer. It's in action today, helping firms manage over $80 billion in assets for over 106,000 clients*.
Our Unified Managed Income solutions help advisors grow their decumulation business at scale. All while clients enjoy end-to-end, tax-efficient retirement income planning, including delivery of retirement paychecks.
It all happens under your firm's brand.
This is a unique opportunity to grow your revenue with a consistent retirement income process that is fully compliant with Reg BI and fiduciary standards.
*as of 12/31/20
Call: 888-966-9469
Email: sales@incomediscovery.com
We currently serve only those institutions that will analyze at least
1,000 retirement income cases a year.